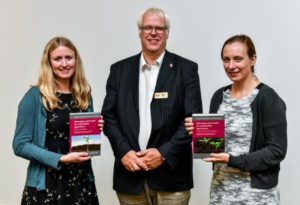 The Soil-Value team swept up the early-career awards with posters and presentations on soils in cities and agriculture at this year's British Soil Science Society Conference.
The focus for this conference this year was on soils and sustainable development goals (SDGs). The programme included a huge range of topics really underlining how soils link to so many of our sustainability challenges.
Roisin O'Riordan and Victoria Janes-Bassett – two of our Soil-Value researchers – were awarded Early Career Researcher prizes for the best poster and presentation of the conference. The awards – a mounted trowel and spade – take pride of place Pentland Centre HQ.
"Understanding the long-term effects of agriculture on soils is key to a sustainable future", says Victoria. In her talk she presented a new model that lets us explore the long-term effects of agriculture and soil biogeochemistry.
"Over a third of global land area is used for agriculture and much of that land has been used for farming for centuries. Agriculture changes the natural flow of nutrients and we need to understand these changes to ensure sustainable food production for the future."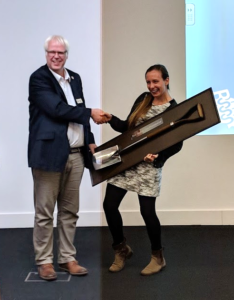 "It's also important for climate though – agricultural soils store carbon and can be a source. There's lots of interest at the moment in increasing soil carbon in farmed land to combat climate change"
"Observations help us to understand what's going on but only provide part of the picture! There are so many factors that influence how soils change. Observations from one site can't tell us the whole story, but if we combine datasets and models then we start to see the bigger picture". Victoria has collected together datasets from long-term experiments from across Northern Europe to test the new model.
"The model is telling us that fertilizer inputs are important in sustaining yields, but that the stocks of carbon are strongly influenced by longer-term ecosystem development".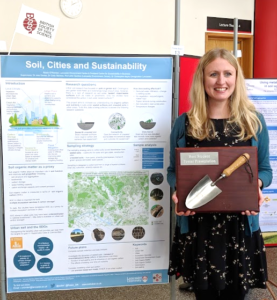 "We know so little about the soil beneath our feet and pavements in cities", says Roisin, a first year PhD student. Roisin presented a poster on her work investigating urban soils.
"Soil is important for many ecosystem services, the benefits that we get from the environment such as flood mitigation, clean air and carbon storage, but we know little about the role urban soils play in providing these in cities."
Roisin added that the urban environment is an important area of research, "urban populations are growing, and cities are becoming vital locations for delivering a range of ecosystem services. Already over half the world's population lives in urban settlements, so it is crucial we begin to understand how urban soil affects quality of life in cities through ecosystem services."
"My research focuses on the organic matter in urban soils as a proxy for ecosystem service provision. I've been collecting urban soil from across the city of Manchester and I'm looking forward to seeing what I find!"
Jess Davies said, 'I'm very proud of both Victoria and Roisin. Explaining models is no easy feat and this is Roisin's first conference. Their dedication and passion for their research shines through – it's brilliant having them as part of the team."